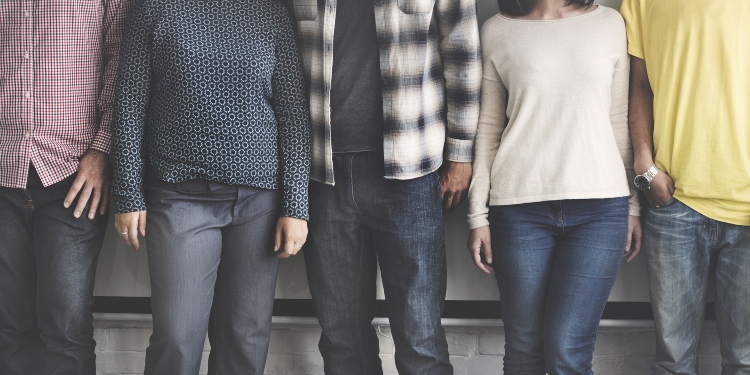 The best reason to diversify hiring is to gain access to a wider knowledge pool.
In today's world where so many changes are taking place rapidly, it is important to keep up with the times. But, how do you keep up with the times when things are changing before you even know they exist? You may not know, but someone else does, and they can shed some light on certain innovation and new technology. And even though that person may know about this one thing, it doesn't mean they will know about another. Someone else does, though.
How do you take advantage of that scattered knowledge?
Diversify hiring.
Every business should diversify hiring so everyone can bring their own knowledge to the table. When you hire with diversity in mind, you can consider each individual a piece to a puzzle—and once you have every piece, the puzzle will be complete.
"Diversity" in hiring doesn't mean focusing on ethnicity—people can be from different cultures and backgrounds and still share the same skill sets and knowledge. In hiring diversity, we look for individuals with different personalities, potentials, experience levels, or other qualities, all of which can contribute to the overall capabilities of your business.
Some examples of different types of people you could hire include:
Introvert vs. extrovert
Creative thinkers vs. analytical problem-solvers
People from different cultural and economic perspectives
Number people vs. word people
Jack of all trades vs. focused expert
And many more!
Why Diversify Hiring
One way diversifying your hiring can benefit your business is by avoiding the "putting all your eggs in one basket" problem if someone should leave—and people will inevitably come and go. Moreover, when you add diversity to your organization, you gain the prominence of different perspectives with many different views to consider.
When you hire diverse people, you can get varying input on the same problem. Then you, as the decision-maker, can make the best decision with a lot of information. Analytical thinkers may see a problem completely differently than a creative thinker will. And neither approach is better or worse—both are valuable.
Diversity is a big asset for any business. When you bring together different types of people to work together, you get different perspectives, unique insights, and solutions that work. When a diverse group works together, it often leads to the optimal outcome or decision. What business wouldn't want that?
Finding diverse individuals is fairly easy—it's retaining those you hire that's difficult. By hiring people with different skill sets, personalities, and other traits, each individual will have different working and communication styles. You may have to be active in your role to help make sure diverse ideas are encouraged and celebrated.
Keep Diversity Top of Mind
Consider what your needs are first and what you hope to gain by hiring with diversity in mind. There are numerous individuals looking for work, you just have to find the right one to suit the needs of your company. You will find that offering rewards for qualified candidates can help raise interest and will result in many successful referrals.
Take special care when posting project details. If you're looking for someone with a specific level of experience, make sure that's clear in the description. If you're looking for a specialized expert but don't make that clear, you may be disappointed with the applications you receive. Same goes for skill level, background, industry knowledge, and more.
In addition, make sure everyone currently working in your business is on board with having a diverse workplace. If they are in the least bit skeptical, explain the benefits of developing diversity to add different points of view into the mix. Remember, everyone will be making adjustments to their work and communication style, but they are committed to making this work too or they wouldn't be there.
Hiring a diverse group of people has to be a purposeful effort—it rarely happens just by accident. Make an effort to bring diversity to your organization and lay out the plan for making it happen. Without someone in a decision-making role driving a diversity initiative, it just won't happen.
Examples of Adding Diversity
If a business is used to working with expert-level individuals and decides to hire an entry-level freelancer to take on some of the tasks that have strong standard operating procedures (SOPs), there will be an adjustment period. The expectations for an entry-level freelancer will be far different from someone brought in with 15 years of experience. Compassion, understanding, and patience are all key for this situation as well as adding any form of diversity to a business.
Another way to add diversity is with time zones. If your business runs 24/7—for example, an ecommerce retail brand—you may need people on the clock at all times processing orders and doing customer support. If you hire individuals from different time zones, you can cover the entire day without expecting someone to work outside "normal" hours.
Looking for diverse skill sets is a great way to fill gaps in your business. Maybe you have a few individuals really great at sales but who don't excel at execution. In that case, you can purposefully seek out someone with strong execution skills who can get things done. This balance makes the entire group stronger and allows each individual to focus on what he or she is best at.
To hear real stories about how businesses use freelancers to add diversity, check out the Outsourcing & Scaling podcast.
Onboarding for Diversity
One way to encourage communication among a diverse group of people is by designing an excellent onboarding program so that the project doesn't seem too complex or stressful. Nobody wants to have to guess at what they are supposed to do or take risks in the workplace and hope they are doing things right.
Therefore, you want to ensure that the onboarding program is set up suitably so that it is easy to understand and helps freelancers learn everything they need to know to do their tasks right. Assign somebody to help them get familiarized with the way things are done and make that their only focus for the next few weeks or until the new hire is comfortable. That way they have someone always available to answer their questions.
In the end, the most important factor is to clearly explain to the new hire their duties and functions, as well as their potential and future opportunities with the business. This will help make sure the diverse group you bring together in your business can stay together and become stronger over time.
How to Diversify Hiring
One of the most efficient and effective ways to diversify a business is by hiring freelancers. With freelancers, a business can benefit from different personalities, experience levels, skill sets, and more without the overhead of hiring a huge full-time workforce. You can hire a writer, a VA, a customer service rep, and a bookkeeper—all of whom are strongly suited for what you need.
Freelancers are used by government agencies, major corporations, small businesses, individuals, and more. They offer a wide range of diversity as there is a freelancer for every task imaginable. Contracts for freelancers vary from small, temporary, short-term projects to long-term full-time roles. And payment terms vary from hourly to fixed bid to retainer.
One great thing about freelancers is that there's always someone available for hire, so businesses can find freelance help quickly and affordably if someone full-time should suddenly quit. They come from all walks of life and backgrounds, and some may be highly educated experts in their field, where others may be new and not have much experience to fall back on.
You can use a freelancer from any part of the world for various tasks—and they have different price ranges based on skills, experience, location, and more. Have a price range in mind when you start looking for freelancers. A great way to diversify with various skill levels is to hire expert freelancers to drive strategy and big-picture work and bring in lower-level freelancers to help and learn from the expert. If you plan to take this route, be clear with the expert freelancer about your expectations—some are open to working like that while others are not.
Finding Diverse Freelancers to Hire
Now that you know the benefits of having different types of freelancers for different business needs, you can go about finding those freelancers. There are many freelance marketplaces available online where you can find diverse freelancers to fill nearly any need in your business. You can hire freelancers from around the world and find the best talent without needing to be in the same geographical area.
Some popular options include FreeeUp, Upwork, and TopTal. Here's a bit about each platform.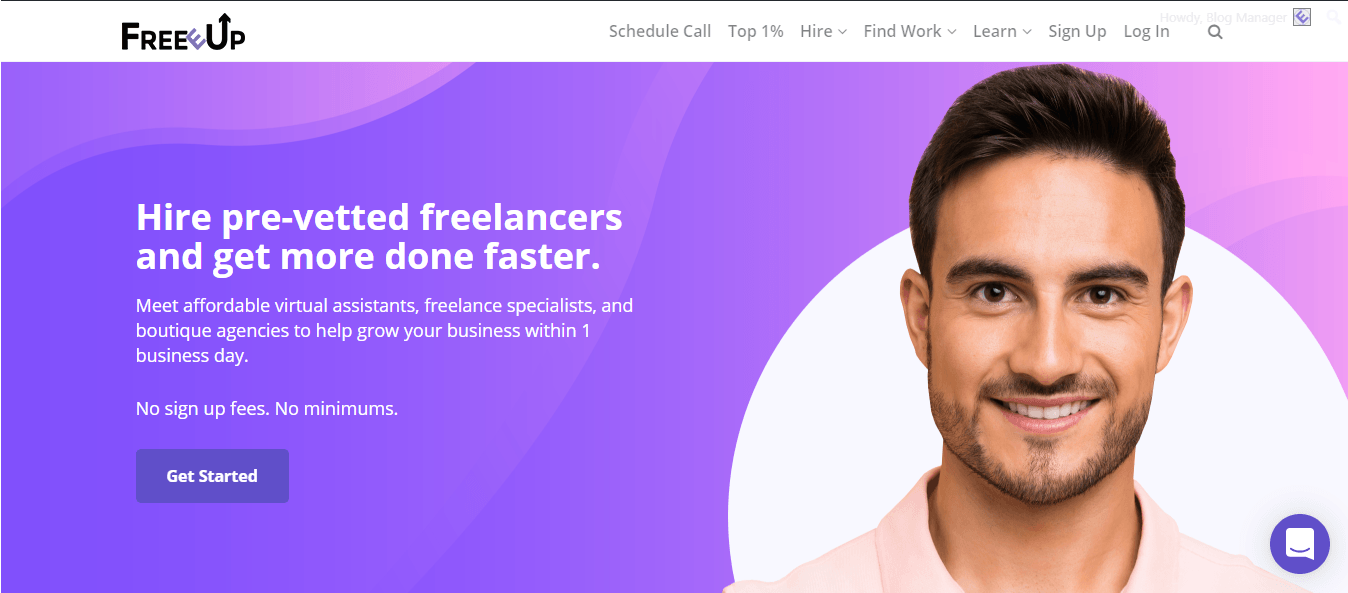 On FreeeUp, you can find and hire pre-vetted freelancers with a wide variety of skills, experience, and price. For example, you can find virtual assistants (VAs) in the Philippines starting at $5/hour, a social media marketer in Latin America for $20/hour, a software developer in the US for $75/hour, and everything in between.
Freelancers on FreeeUp go through an application and pre-vetting process so freelancers you hire through FreeeUp, no matter what experience level, are vetted for important traits. As long as your expectations are in line (for example, you don't expect an expert in the US for $5/hour), you can find and hire almost any type of freelancer you could need on FreeeUp.
Create your FreeeUp account to start finding and hiring diverse freelancers.
UpWork is a freelance platform where businesses and clients can hire individual contractors and agencies for projects small and large. The platform as more than 12 million freelancers registered and over 5 million clients.
The types of freelancers available on UpWork range drastically from complete beginners to retired experts and from data entry assistants to corporate lawyers and accountants. Almost anyone is able to join the site as a freelancer, and quality is determined over time with client ratings and reviews.
TopTal consists of a global network of professionals in the business, technology, design, and more that allows companies to scale their teams and hire on-demand. TopTal currently serves thousands of individuals and businesses worldwide.
TopTal's talent pool is less diverse in skill set and skill level than FreeeUp and UpWork because they focus on certain skill sets and only expert-level freelancers. Applicants go through an application process followed by skills tests to ensure they meet the TopTal standards.
Freelancing & Diversity Are Both on the Rise
There is no doubt that freelance marketplaces are becoming more popular as they provide a way for businesses to hire talent from around the world with many different levels of expertise to fulfill specific functions or to complete projects.
The "gig economy" is becoming more appealing to both individuals as well as businesses around the world. Highly talented professionals—such as consultants, CMOs, and attorneys with world-class education and training—can find an independent lifestyle while businesses can benefit from access to diverse talent without borders.
As you're building your business, keep diversity top of mind. You can bring together a group of people with different skills, different perspectives, unique experiences—all without ever being in the same room together. Once you experience the benefits of diverse hiring, you'll never go back.
To learn the types of projects and work you can outsource to freelancers and build diversity in your business, read The 100 Most Popular Jobs to Outsource.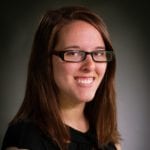 Megan Horn is a B2B writer and marketer. She works with companies to tell their unique stories to create engaged, loyal customers. Learn more at https://www.meganhorn.com.